A joint post from Cheryl and Karen.
While there have been winners and losers among publicly traded companies, few, if any, have been unaffected by the Covid-19 pandemic. The divide is stark between companies who have thrived (Shopify up 161% in the year to date, Lululemon up 41% and Agnico up 30%) and those who have floundered (Cineplex holding on for its survival, down 86%, Air Canada down 69% and Riocan REIT down 45% .) With each twist and turn, CEOs and CFOs re-evaluate their strategy, their plans and their forecasts. The next few quarters, including year-end, proxy season and an AGM are going to really test who has got things right.
While analysts and investors hate uncertainty, they were more willing through Q2 to accept your inability to meet previous guidance or update your outlook. Those with trusted management were given some leeway to muddle through. The situation was changing rapidly, with wide-scale closures. Companies were scrambling to make masks, hand sanitizer and ventilators, not in the name of profit, but for the public good.
Don't expect to get a free pass in Q3. More than six months on, companies won't be able to fake their way through with imprecise answers related to the pandemic or strategy. While everyone accepts we are still in a period of great uncertainty, if you expect to maintain or build confidence, you need to demonstrate that you have a plan. Or three.
All it takes is one poorly answered question to drive negative headlines in analyst reports or news stories to expose your vulnerability that can be the beginning of the end – for your job, a big client deal, or the company itself. The simplest questions, answered poorly, can mean tying yourself in knots in future quarters. (See this previous post to hammer that point home.)
No More Faking It
Forget trying to answer 200 questions about the day to day. Focus on the 10 topics you need to nail in your conference call script and Q&A to focus people on the long-term health and sustainability of the company. Aim for more than half of the call discussion to be about strategy rather than short-term guidance or analyst models.
Are the pivots you made here to stay, and what does that mean for your core business?
What opportunities do you see and what kind of growth could they drive?
What is your three-to-five year strategy, and how does that reflect the changes you are seeing in your market and industry?
How has your customer or client behaviour changed, and is that permanent?
What are the three biggest risk factors in your 2021 guidance and how are you addressing those risks?
What challenges are you experiencing in your day-to-day operations?
Is your balance sheet strong enough to support your strategy? If not, what are you doing about it?
How are your major partners and largest clients being affected?
What are the one-offs you saw in 2020 (e.g. government support) and will that continue?
What will you do if things get worse?
Refocus on Strategy and Risk
The nature of the pandemic and its impacts have made people more receptive to changes and pivots in strategy and operations. They recognize that they may need to change their models again and accept some writedowns may be inevitable. This is an opportunity. There may even be an opportunity here to extract yourself from the tyranny of quarterly guidance to focus your shareholders (and employees) on a three- to five-year strategy. But you need to do it before the market makes the call on "winners and losers" and moves on.
Speak the truth. Now is the time to be transparent about the risks, the opportunities and the uncertainties, while communicating both a plan and willingness and readiness to pivot. This is not the time to sound like you have all the answers (if there ever was one.) It is, however, the time to be clear about what you think is important, rather than talking about your business in the same pattern that you always have. But to claim any sort of certainty on these issues in a pandemic is a fool's errand. Force them to look with you at the forest, not the trees.
How you handle these discussions, whether on the quarterly call or shareholder meetings is going to set the tone for how you do. Build investor confidence now so they can trust you to go manage the business, make investments on big bets, and get out of the cycle of micro updates.
This is all easier said than done, of course. Your investors and analysts have come to expect you to help them build their forecasting models, focus on margins and ratios and timing. And there is no doubt that cancelled investor days, abbreviated AGMs, and limitations to in-person meetings have made it harder to maintain or build trust and a deep understanding of your business of what has shifted in your business. You may need more one-on-one meetings and your year-end documents will need to work harder.
One thing is certain – if you're starting your press release, your call script and your Q&A with a fill-in-the-blanks template, you're starting from the wrong spot.
---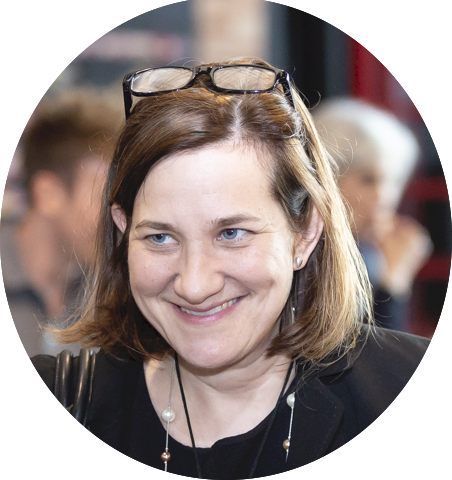 Karen helps executive teams report and engage with stakeholders around issues that are material to their business. She is opinionated (in two languages) about how investor focus on ESG will change how companies access capital. You can reach her here.