Have you been asked to sign the BlackNorth Initiative CEO Pledge? Wes Hall, founder and chairman of Kingsdale Advisors, joined forces with the CEOs of CIBC, Fairfax Financial Holdings and Cisco Systems Canada after the death of George Floyd to push their peers to address systemic anti-Black racism in corporate Canada.
The starting point is signing the pledge, which is the price of admission to a July 20 CEO launch summit. CEO summits are a rarity in Canada, so that alone will create sufficient FOMO for some CEOs to consider signing. But a CEO pledge is of course not to be taken lightly. Here are a few questions to ask yourself before committing to this or any other CEO pledge.
Will you actually commit to both the spirit and guts of the pledge?
The BlackNorth pledge contains seven commitments to combat anti-Black racism and create a more inclusive and equitable workplace. Some are table stakes, such as creating inclusive environments, eliminating barriers to advancement, and sharing diversity plans with boards of directors.
Others require more consideration, and, not inconsequentially, budget. Companies absolutely should implement unconscious bias training, but where will the budget come from? In the midst of a recession, are you willing to tell an executive you're taking money from their budget to pay for training? Each CEO needs to answer that honestly for themselves.
Of a more philosophical nature, do you agree with setting a target number for Black representation in executive and board roles in five years? This is a low and slow bar, but it will require significant behaviour change in how talent is developed, promoted and recruited. The perfect executive or board member needs to fill many skill and experience gaps with a single person. Are you truly willing to do the work needed to find or develop the right talent among Black executives? Or when it comes down to it, will you decide some other company can appoint those needed to meet the 3.5% average across corporate Canada?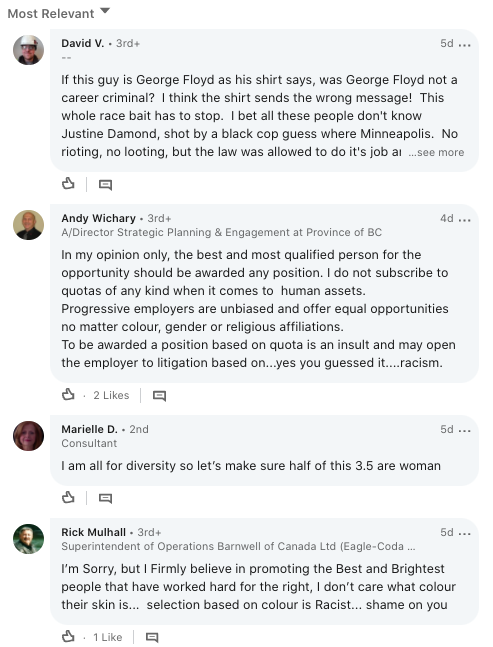 When I posted the details of the pledge to my LinkedIn feed, a number of people responded with some version of "I think quotas are wrong. The best person should be hired, period." I used to agree with this, but it is flawed logic that implies that "the best person" makes it onto your candidate list, or that when you evaluate two people, one is necessarily objectively better than the other. Our experience with gender discrimination should tell us that the passive "hire the best person" philosophy does not work.
Here's the point: before you sign, actually read the pledge. Make a list of what you will have to do to implement it. Figure out who else on your team will need to be as committed as you are. Even if you support the cause, if you're unwilling to change your corporate behaviours and do the work, you should probably sit this one out.
Will your board support you?
One of the commitments is about representation on boards, yet CEOs have no formal role in director candidate recruitment beyond (perhaps) their capacity as a director on public company boards, and shareholders ultimately vote in directors. So on this point the CEO would need tacit approval of the board for the pledge to mean anything at all.
And while one would hope that signing a pledge to combat anti-Black racism should be easy for boards to support, it may be a little more complicated if your relationship with the board is fraught with conflict or there are other issues at hand. Will the board use this as ammunition against you somehow? Will it be seen as a distraction from issues the board sees as more pressing?
If any of these things are true, then you need to decide whether you are willing to actually fight against anti-Black racism. This is a test of how committed you really are. Hint: they are not values or morals if you relent when it's hard.
What is the potential impact on your personal and corporate reputation?
If you sign, be prepared for someone to air some dirty laundry. No one likes a hypocrite, so if a candidate had a racist experience with your recruiters, or an employee is seeing systemic racism every day, you will be called on it. This should not dissuade you, but be prepared for this to be hard at times.
Signing a pledge like this may also move you from a CEO who sticks to running the business into the category of Activist CEO. Are you prepared to receive more requests to support social causes? Are you prepared for media attention? Are you prepared to defend your participation in this movement when you haven't done enough on gender, or you employ no people with disabilities? Canadian CEOs have what comes close to a tradition of staying beneath the radar on social issues, contributing predominantly behind the scenes. So if you pop your head up in public, expect more attention, demand of your time, and scrutiny.
What are the risks of not signing?
When a CEO pledge catches momentum, there's a tipping point at which your absence among the CEO signatories becomes glaring. A year ago, 180 U.S. CEOs signed an open letter in the New York Times that argued that restricting abortion is bad for business. Starbucks was among the companies that were called out because their CEOs were not part of the pledge. (I wrote about that movement here.)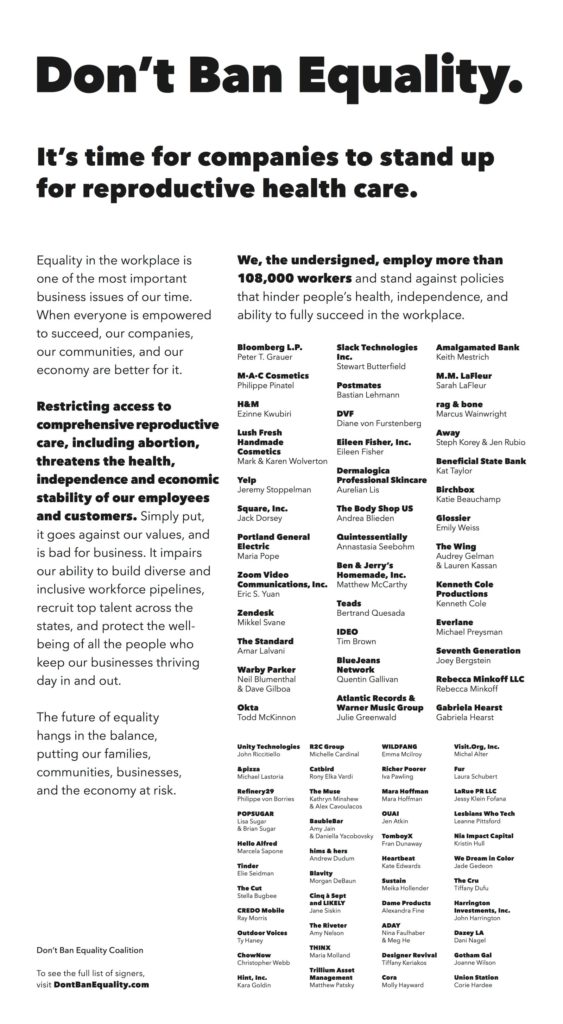 (This is true even if they weren't actually invited. Outreach to sign CEO pledges is often no more organized than leaders sending the letter to their networks with a 'Pass-it-on' request.)
Employees are looking for leadership from CEOs on social issues, including anti-Black racism. If you're not part of the inaugural group, you are sending a message to stakeholders that will have business implications, particularly related to employee productivity and retention. It's not a great look to be the only bank or accounting firm CEO missing, either. In my opinion, it's unlikely you will lose customers over this particular action or inaction, but on other CEO pledges or oaths, that's another important consideration.
While it's often hard to tell which pledges and petitions will gain momentum and critical mass, the pledge from BlackNorth Initiative likely will. Here's why:
The launch included four prominent CEOs, each with vast personal and corporate networks. (Who really wants to slight their bank's CEO right now?) Let's not overlook the fact that Hall himself founded the most influential shareholder fight company in the country. These are people who know how to wield power and influence.
Canadian CEOs have recently spoken out denouncing the death of George Floyd. But in order to make those words mean something they need to follow up with action. (I wrote about that last week, in case you missed it.) Hall and company have made it easy for them by both providing the skeleton of a plan, and taking the media attention on themselves so that you can coast in behind them if desired.
The bar has been set low, the costs are manageable, and the timelines for real action are generous. (Disclosure: I provided feedback on a draft.)
Significant media coverage means that awareness of the pledge is high; it will be hard to claim you weren't aware of it.
Wes Hall has set something powerful in motion that is already pushing CEOs to make substantive commitments. The announcement on Monday from RBC CEO Dave McKay that included more aggressive action than the pledge expects is the kind of leadership we should hope changes the narrative of systemic racism in our country. I support the CEO pledge and believe that signing on is a good decision for CEOs. (Details on how to participate are in the press release.) But this is very different from buying a table at a cancer fundraiser – it should not be taken lightly. Do your homework. Ask yourself the hard questions. And be prepared to work.
Still not sure whether to sign? Drop me a note, and let's talk it through.